Cuphead
This run and gun game originally came out for Xbox One and PC back in 2017 and was critically acclaimed. Cuphead and its beautiful hand-drawn animations will be available on the Switch from April 18.
Overland
This is a turn-based strategy game that takes place after the apocalypse. With rogue-like elements, it looks like it'll be quite re-playable. However, you'll have to wait until autumn for Overland.
My Friend Pedro
My Friend Pedro is stylish-looking shooter where you run around like you're in a Tarantino movie. The protagonist in this is guided by a talking banana who goes by the name of Pedro. The game will be available on the Switch from June.
Neo Cab
Neo Cab is a survival game due to launch this summer. You play as the only remaining human ride-share driver in the city as you look for your friend who's being hunted down by a mega-corporation in Los Ojos, California.
The Red Lantern
The Red Lantern is a survival game about leading a group of sled dogs across Alaska. It looks like it's going to be emotionally-draining being a musher and we can't wait!
Darkwood
Darkwood is a survival horror game from a top-down perspective and it looks creepy as hell. With procedurally-generated environments, you can't memorise your surroundings to beat this one. It's coming out in May.
Katana ZERO
Katana ZERO is a game where you play as an assassin with the ability to rewind time, which is useful given that you die after one hit. It looks very stylish and it's coming out on the Switch on April 18.
RAD
RAD has you transforming into plenty of creatures to fight in this 80s-as-hell title that takes place in the post-post-apocalypse. This is an action game and also has you wrecking stuff from a top-down perspective. It's due out this summer.
Creature in the Well
Dubbed as an action-adventure game that's based on pinball. Creature in the Well will be available this summer and it's nice to see an interesting blend of hack-and-slash and pinball. This one is also scheduled to be released this summer.
Bloodroots
This action game is all about chaining combos together with almost everything in the environment. Bloodroots is also coming out in the summer and it looks pretty cool.
Pine
Pine is anopen-world fantasy action-adventure game. It includes resource management, crafting, trading, and survival and it's coming out in August.
Super Crate Box
Super Crate Box is a shoot 'em up game that originally came out in 2010. The Switch version is coming out in April and will have multiplayer matches.
Nuclear Throne
Nuclear Throne was released today and is a rogue-like action game that has you playing as mutants trying to kill almost everything in a post-apocalyptic wasteland.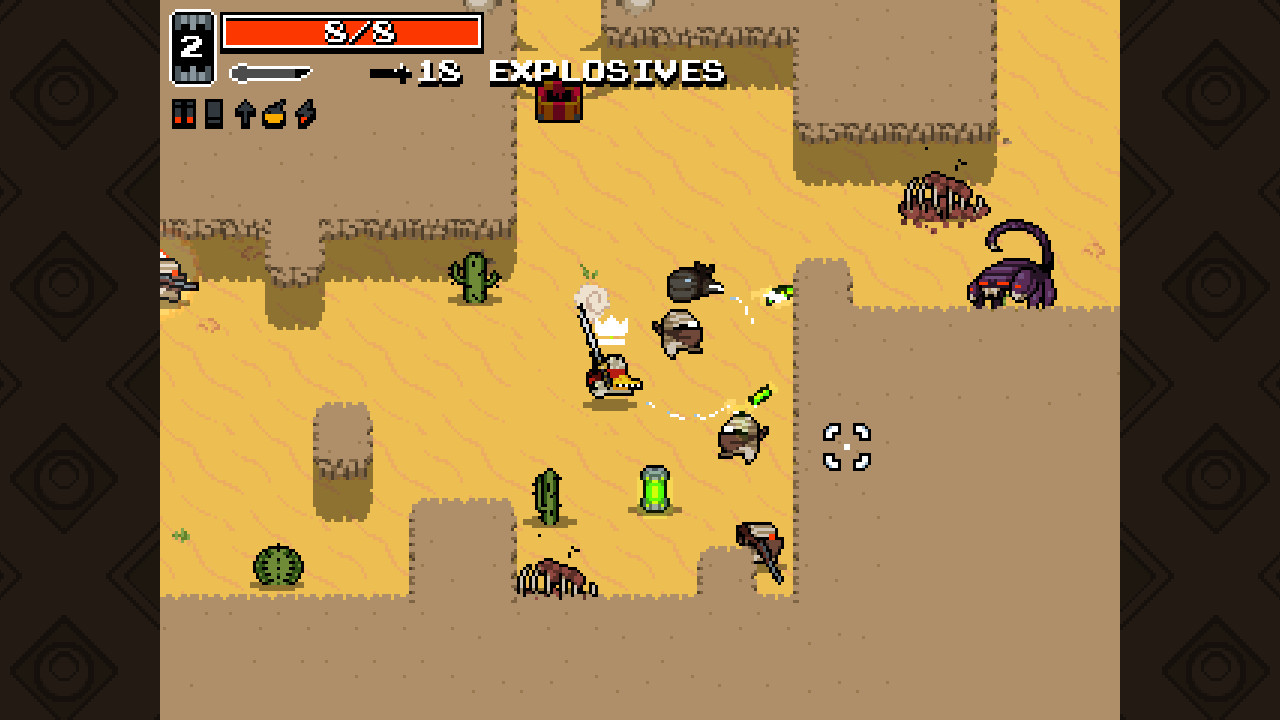 Ultra Bugs
Ultra Bugs is the first title in the Vlambeer Arcade collection. This is a shoot 'em up that looks hard as nails and a lot of fun.
Swimsanity!
Swimsanity! is a shooter with the twist being that it takes place underwater. It's coming out in the summer and looks like it could be a great multiplayer title.
Blaster Master Zero II
Inti Creates have released Blaster Master Zero II today. This is the sequel to the 2017 remake of the NES Blaster Master title that originally came out in 1998!
Stranger Things 3 The Game
The official game for the third season of the popular Netflix series is as retro as the series itself and includes couch coop. It'll be out the 4th July, 2019, the same day as the series' launch.
Cadence of Hyrule – Crypt of the Necrodancer
If you played Crypt of the Necrodancer, you're in for a treat. Cadence of Hyrule is a new game from Brace Yourself Games taking place in the Zelda universe. It's coming out in spring of this year.
It looks like if you like rogue-like action-adventure games, you're in for a treat over the coming month. There's also a sale currently on the eShop on a load of indie titles.
You can watch the full Nindies Showcase below. What are you most looking for?